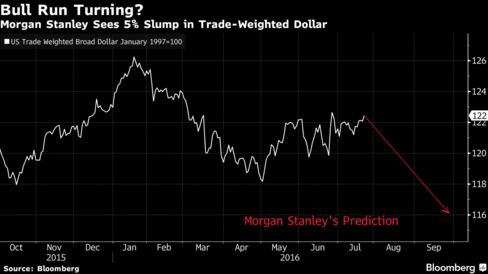 It looks like the good times are rolling over for America. If you're a trend follower, you will understand this natural rhythm of the cyclical markets. There's little point in wishing for the good days to continue. The questions you should now be asking are how rough will the days ahead be and how should I handle them? Find out more here.
Hans Redeker, chief global currency strategist at Morgan Stanley, is one pretty somber guy. Somber about the state of the US economy, that is.
In his recent note to clients, Redeker warned them that the dollar is set to fall 5 percent in the next few months amidst worsening U.S. economic data.
"We are quite pessimistic about, first, the outcome of the U.S. economy. When you look at our internal indicators, which capture domestic demand very well, they are suggesting that the demand strength is going to fade from here." – Hans Redeker, Strategist, Morgan Stanley.
Steven Englander, global head of Group-of-10 currency strategy at Citigroup Inc. concurred with Redeker. He viewed that further dollar strength will be limited as policy divergence between the U.S., Japan and Europe slows.